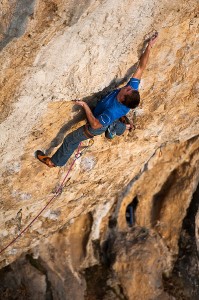 Dvojica mladih zagrebačkih penjača ovih su dana probili svoje vlastite barijere. Obzirom na snijeg jedva su se uspjeli vratiti svojim kućama. Ali to je svakodnevica penjača iz sjevernog dijela Hrvatske. Ustaj rano, slaži sendviče, vozi se dva sata, penji, vozi se ponovo dva sata, i tako skoro svaki vikend. Rutina je to koje je postala gotovo normalnom ukoliko se želi popesti nešto u prirodi. Filip Pečenec i Borna Čujić su se prilagodili …
Nakon bijega is Splita zbog slabe prognoze sa svojim partnerima Filip Pečenec uputio se u Kompanj gdje je popeo smjer Rocket max ocjene 8b. Za Bornom Čujićem drugi je najmlađi naš penjač s tom ocjenom. Bravo Filip !
Borna Čujić zadnjih je sedam dana sa obitelji proveo na Siciliji, točnije ne penjalištu San Vito lo Capo koje zadnjih par godina počinje sličiti Kalymnosu. Povećava se broj sektora a ponuda klvalitetnih smjerova sve je veća. Borna se posvetio penjanju na pogled a lista popetih smjerova je za ovako mladog penjača ( 15 i pol god. ) impresivna. Treba ipak naglasiti da su smjerovi na Siciliji mekanije ocijenjeni od onih kod nas.
Lista popetih smjerova : Mega Dave 8a na pogled , Team Work 7c+/8a na pogled , Acqua panna 7c+ na pogled , Cristo 8a second go, Bambus 7c+ ( po vodiču 8a ) na pogled , Nella bolla 7c na pogled, Spacelab 7c+ second go , Signor Ratto 7c second go, Crusader 7b+ na pogled , Black cat 7b+ na pogled, All cats are black at night 7b na pogled ( 7b+ ? ) , Pipeline 7c na pogled .
A sezona je tek počela !